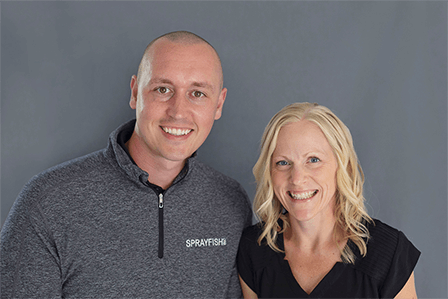 Team Sprayfish
Sprayfish, Inc. specializes in distributing top-of-the-line supplies to businesses throughout the USA. We distribute and represent industry leading product lines that offer the most value and the best finishing solutions for your application. We provide booths, ovens, designed systems, liquid application equipment, compressed air solutions, part racks, filters, and accessories. We are your finishing equipment consultants!
Our Values
Education - At Sprayfish, Inc., we focus on educating ourselves, which enables us to create better tools to help our customers.
Integrity - At Sprayfish, Inc., we always strive to be ethical and honest.
Passion - At Sprayfish, Inc., we love what we do and we are excited to help each customer find the most optimal solution for their needs.
Products - We offer only top-quality finishing systems, products, and services to the Industrial, Woodworking, Aerospace, and Automotive Refinish markets. Sprayfish, Inc. provides our high-quality solutions to customers throughout the US.
Shop On Our Online Store
Visit our online store, Shop Sprayfish, for all of your paint application equipment needs. We have booths, pumps, guns, parts racks, filters, floor protection, compressed air solutions and more!
Primary Industries We Serve
Aerospace Industry

We work with small to large aerospace companies to meet their stringent paint specifications for interiors, exteriors, and mechanical components!

Automotive Industry

We have many solutions for the automotive refinishing industry, including Iwata spray guns, Walcom air solutions, Spray Tech booths, and more!

Woodworking Industry

Whether you are finishing kitchens, furniture, doors, or anything else made of wood, we have the product solutions to achieve your quality requirements!
TESTIMONIALS
"Great Company! Thank you for all the support and everything you do for us. You have proven that you are part of our team and not just a supplier"
- - - - - - - - - - - - - - - - - - - - - - - - - - - -
"Sprayfish is more of a partnership rather than just a vendor to our company. Kevin's knowledge of equipment exceeds all expectations and he has definitely been a huge part of our companies success with our technical coatings."